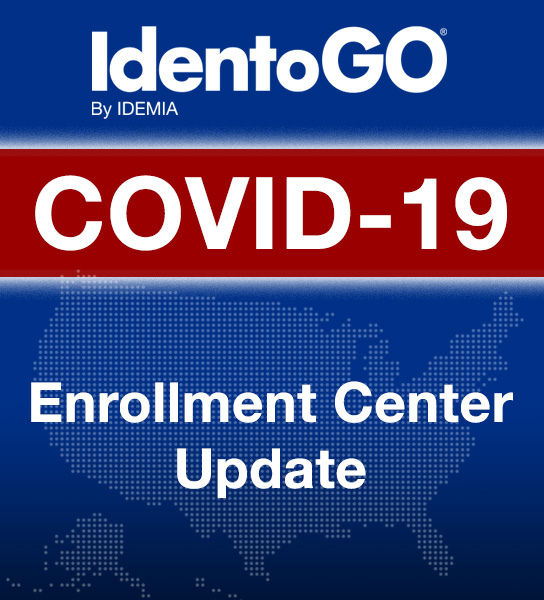 COVID-19 Delays
To our IDEMIA customers,
IDEMIA is committed to providing our services which allow continuity for many critical community and government services, such as healthcare, foster care, and other essential services that protect and serve our population. We ask for your support and understanding as we navigate this challenging time together.
Due to the impact of the COVID-19 epidemic we are experiencing a temporary reduction in the number of enrollment centers available for fingerprint appointments. We understand that this may result in a temporary inconvenience to our customers due to enrollment center proximity and appointment availability.

IdentoGO Center Standards and Safety
Our Enrollment Agents sanitize their hands between customers and also disinfect surfaces that come in contact with customers regularly. We have increased cleaning protocols related to high-touch surfaces like door handles, keyboards, counters, and chairs. We are observing Social Distancing in our centers and we ask you to assist us and review the following ways we are working to keep you and our enrollment center staff safe.
How can you help?
Do not enter the enrollment center if you have symptoms, are awaiting the results of a COVID-19 test, or have been advised to self-quarantine
If you are exhibiting symptoms, have a cold, or suspect you have the flu, we ask that you reschedule and fingerprint at a later date
Please have identification documents and payment in your hand when you approach the agent or greeter
Do not place personal items (purses, hats, cell phones, etc) on the counter or desk.
Practice social distancing - please maintain a 6' distance between other customers
Wait times may be longer than normal due to sanitizing protocol of equipment and surfaces between appointments - We're taking care of ourselves and taking extra steps to take care of you and our other customers
Please print the confirmation statement at the end of your enrollment and follow all published safety guidelines we have implemented based on CDC and WHO recommendations.